Offshore Fishing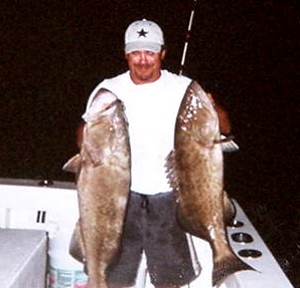 Since really deepwater runs so far off the West Coast of Florida, fishing for Marlin, Dolphin, Wahoo, can take a little time to get to, but the rewards are well worth the wait. Grouper, Snapper, Sea Bass, and other bottom fish can be found just a few miles from the beach. But, if you want to catch the really big ones, like the ones in these pictures, they're usually farther offshore. In the Gulf of Mexico, the preferred method for catching these big fish is with live bait.
Free lining live baits while drifting or at anchor is an effective way to catch all types of game fish. The baits left to swim freely on the waters surface so they splash and dart around, sending low frequency signals, attracting all types of game fish we are looking to catch. Lines can also be put out on the down wind side of the boat at various depths to present baits to fish feeding below the surface. This method of fishing allows us to present baits in different parts of the water column covering a large area of water.

Trolling is another method of catching big fish in this area. If conditions do not favor drifting live baits, they can be "slow" trolled to cover a larger area of open water. Trolling can also be done with downriggers for the fish deep in the water column, live baits, dead baits, and artificial lures are used in different combination.
Baits are placed at different distances and different depths behind our boat, to make it appear as if a school of bait is following us. Since fishing tides change through out the day, a trip may start out catching one kind of fish, and end up with another.